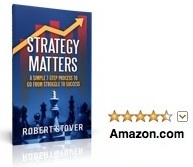 If you are looking for a strategic planning book, here's a chance to get 4.5 star rated, $24.95 Strategy Matters for only 99 cents on your Kindle APP.
Is the book right for you? If you need a simple, proven and effective planning process to guide your own thinking or lead your team through, you'll enjoy this approach.
Inside this Strategic Planning Book you'll discover…
How to tap into the power of strategy
A simple-seven step process for planning (Once you know it you can think strategically in an hour or use it as a template for a strategy retreat.
Why strategy can help you achieve goals and objectives and success that seem out of reach right now
Why strategy is too important to be made difficult
How to catapult your organization to the next level
How to balance analysis and imagination
It's a quick read, but a powerful, proven process to guide your strategic planning.
And best of all, instead of $24.95, you can download it to Kindle for just .99 cents for a limited time.
You can read the reviews here.
And get Strategy Matters for just 99 Cents by clicking here.