Welcome and thank you for reading Strategy Matters.
Below are some templates and worksheets to help you with your planning process.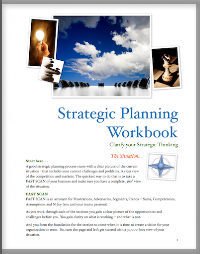 Strategic Planning Workbook
First is a workbook to record your strategy as you move from problems and frustrations and the situation during the FAST SCAN through laying out the steps of your tactical implementation.
Discover how making only a 10% improvement at 5 key leverage points can double profits in 6 months. . .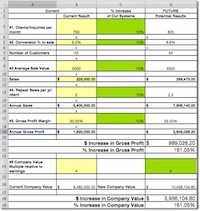 Next, I've included a spreadsheet demonstrating the breakthrough power of very small actions. You can plug your businesses sales and lead numbers into the template and it will show you how small changes at 5 key leverage points in your business can double sales in 6 months.